An Azerbaijani-Korean business–forum took place in Baku. Supported by Azerbaijani Economic Development Ministry, Korean Trade, Industry and Energy Ministry as well as Trade and Industrial Chamber, the forum was organized by AzPromo.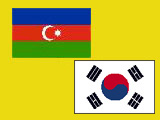 About 70-member Korean delegation was composed of governmental officials and well-known companies operating in the sphere of Korean Electricity Corporation, Korean Gas Corporation, Korean National Oil Corporation, Korean import-export bank.
As to Azerbaijani party, representatives of about 100 local companies were present.
Economic Development Minister Niyazi Safarov touched on economic cooperation between the sides.
Last year general trade turnover and import operations rose by 53% and 78.2% as against the same period of 2004. Export grew by 4.2 times but import decreased by 5.2 times during January-April. Korean Trade, Industry and Energy Minister Le Von Gul stated that economic cooperation with Azerbaijan is very important.
"We are interested in strengthening telecommunication, energy, construction and chemical and other spheres."
He also said that trade uncovered rose by 26%.
First Korean-Azerbaijani business-forum was held in Baku in May this year. Korean-Azerbaijani business-forum discussed investment potential in a seminar in July.
Issues on investment potential of Azerbaijan, economic development strategy of Korea, outline of Azerbaijani economy, now and future of economic relations of Azerbaijan and Korea, APA reports.