South Korean businessmen visit Baku on August 27.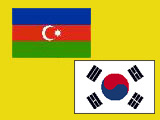 They will discuss issues on mutual cooperation with Azerbaijani leadership and entrepreneurs. Meanwhile, Azerbaijan-Korea business forum will be held on August 28 in Baku. Korean businessmen will also partake in Azerbaijan-Korea business forum.
According to the information, given from the Ministry of Economic Development, South Korean Gas Cooperation, National Oil Company and Export-Import Bank will participate in the forum. Korean delegation, consisting of 70 persons will partake in the business-forum. Private companies, which are very popular in energetic, information technologies and agricultural spheres, are among Korean guests. The Korean delegation will be headed by Won-Gul Lee, Korean Deputy Minister of Energy and Resources.
Meanwhile, Azerbaijan will be represented by 80 local entrepreneurs and state officials in the forum. Issues on creating of joint institutions, as well as applying Korean technologies in Azerbaijan will be discussed in the forum. Azerbaijan intends to use Korean capital on non-oil sector. Meanwhile, the first Azerbaijan-Korea forum was held in Baku on May 11, 2006. The forum was held within the frames of Korean President Roh Moo-hyun's visit to Azerbaijan.
/ANS/