Azerbaijani-German intergovernmental talks started in Bonn. Azerbaijan is represented at the negotiations by economic development minister Heydar Babayev.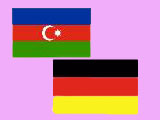 The ministry told APA that an agreement on the establishment of the fund to guarantee credits was concluded on the first day of talks with German Fund (KWF).
The agreement envisages the use of ?4 mn loan to guarantee credits Azerbaijan banks obtained from international financial institutions.
Projects implemented and to be implemented were discussed.
It is also agreed to allow a preferential credit of 30 mn euros for construction of AzDRES-Imishli power supply line.
Mr.Babayev also met with Korin Kortman, the State Secretary of the Parliament of Germany. At the meeting the current cooperation and prospects of further expanding of the cooperation were discussed.
The resulting protocol on Azerbaijani-German intergovernmental negotiations is expected to be signed today. Due to the protocol, within the financial cooperation Azerbaijan will obtain preferential credit of ?9 mn and a grant of ?5 mn.