Azerbaijan International Operating Company (AIOC) will discontinue exporting oil through Baku-Novorossiysk oil pipeline from September this year, AIOC informs that the reason is that BTC has already come on line.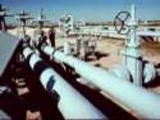 SOCAR said that in September SOCAR will export between 160 000 and 170 000 tonnes of oil and AIOC will export 80 000 tonnes due to previous agreement.
Totally 2 728 317 tonnes of oil was exported through this route during January-July of which 2 306 839 tonnes by AIOC and 421 478 tonnes by SOCAR, APA reports.