The land given to Azerbaijani businessman Gunduz Miiraliyev, Severodvinsk Mayor Alexander Belyayev's son-in-law caused a scandal.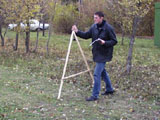 The case went to Archangelsk provincial arbitration, APA reports.
The court arrived at a verdict on Miraliyev, which says the Belyayev and Miraliyev signed a contract without "Univermag Raduga" LLC permission.
The LLC lawyer said the mayor's office gave 320 sq km of land rented by the department store. "The contract signed in 2006 has not legal base," the lawyer said.
Gunduz Miraliyev received Russian citizenship on April 2, 2003.