Azerbaijan and Georgia are expected to reach an agreement on repayment of $16mn-state debts of Georgia to Azerbaijan.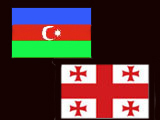 The agreement may be signed at the meeting of Azerbaijan-Georgian intergovernmental commission on economic cooperation, Finance Minister Samir Shirinov told journalists, according to APA.
"At present Georgia pays the interests. Our specialists have worked out a draft agreement after Georgia requested for debt rescheduling. We have already finished with documentation."