National Bank of Azerbaijan (NBA) has analyzed the reports on the authorized capital of submitted by banks and discussed the results with banks, NBA chief director Rufat Aslanli told journalists.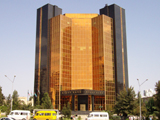 As expected, banks have been experiencing no serious difficulties to achieve the new capital limit of AZN 6.4mn. About 5 banks requested NBA for 30 more days.

According to the latest information, they have already achieved to increase their authorized to the limit, APA reports.