Azerbaijani President Ilham Aliyev announced that Azerbaijan's currency reserves total USD 3 billion, a leap of USD 700 million from the beginning of 2006.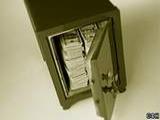 Aliyev, addressing Azerbaijani citizens, said that Azerbaijan is a world leader in economic growth. Industrial output has increased by 41 percent, and overall GDP by 36 percent. This makes the country, he says, very attractive to investors.
By the Azerbaijani government's numbers, more than 90 000 new jobs were created domestically in the last six months. After becoming president in October 2003, Aliyev promised 600 000 new jobs in the country. According to him, 400 000 jobs have been created since that time. He has two more years to make the numbers agree.
/www.messenger.com.ge/