The winners of Moscow Competition I on the best building and designing company will be awarded.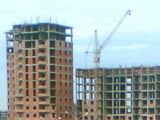 As APA reports, the competition was organized by CIS countries Intergovernmental Council on cooperation on building sphere.
The competition was attended by 157 companies and enterprises from Russia, Belarus, Kazakhstan, Armenia, Azerbaijan, Tajikistan and Moldavia.
89 of which are building companies, 48 are building materials producing companies, 22 designing institutions.
The winners were determined on the basis of three nominations-building company nomination, building materials making companies nomination and designing institutions nomination.
31 won the first nomination, 10 won the second nomination and 10 the third nomination.
Azerbaijani company also won a nomination. But its name has not been publicized yet. The winners will be announced in "Gold Book of CIS countries' building companies".