Transport Ministry is monitoring bus fare in Baku.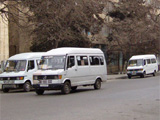 A lot of facts on illegal fare rise were found, Deputy Transport Minister Musa Panahov told journalists.
Panahov said that the ministry intends to discuss the problem with Tariff Council in late year, APA informs.
"Pursuant to Council's decision, to increase the fare is illegal. But we see the problem. Some buses raise fare at nights. But severe measure will soon be taken."
He also said that an action plan on protection of roads is under discussion. Weighing machines will be installed in 8 places in order to prevent heavy trucks from entering the city.