Bank Respublika JSC of Azerbaijan has opened its office in Ganja.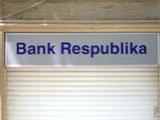 It has had a branch in Ganja since 2002. The newly opened office makes it possible to open deposit, accounts, money transfer to CIS and faraway countries and other banking services.
Respublika Bank office in Ganja told APA that the bank will soon open its offices in Shamkir, Tovuz and Barda as well.
Bank Respublika has 12 branches and 2 offices throughout the country.