The number of those taken accountable during examination in Barmek maw rise, Nazim Abbasov, Head of Department Fighting Corruption of General Public Prosecutor's Office stated.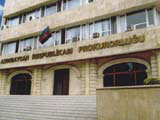 "Examination process is still ongoing in Barmek. Now it is not possible to say when the investigation is over."
He said that 7 employees of Barmek have to date been taken accountable and 6 of those are in custody now.
As APA reports, General Public Prosecutor's Office has started examination in Barmek since March 3.