Bank Respublika JSC has prolonged the monthly lottery campaign for 6 more months and the next winners will be announced August 15.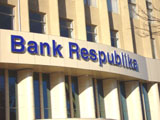 According to APA, the clients putting USD/EUR/AZN 1000 for at least 12 months participate in the campaign and every month per USD/EUR/AZN 1000 two chance to win. Two winnings $1000 each are drawn every month. Bank employees and stockholders can't join this campaign.
The campaign started up in June last year and 24 customers won $1000 each. In this period the savings of the people doubled in the bank.
Bank Respublika also holds lottery campaign among plastic card clients. MasterCard and Maestro owners participate in a lottery campaign – a tour to Italy. The prize is 4-person tour to Italy. Besides, there are 15 prizes - computers and iPod players.