USD 8.81 was transferred through Azerdemiryolbank JS in the first half of the year which represents an increase of 11 times as against last year respective period.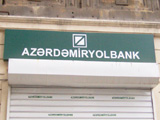 As APA reports, the bank provides money transfer service through five international systems - Migom, Bistraya Pochta, Contact, Moneygram and Travelex and a in-country system – Shimshek.

The bank provides the transfer service in all its branches and offices. The bank has 25 branches and offices throughout the country.