International Bank of Azerbaijan has no probems in its activities and it continues to work normally.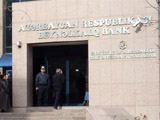 Rumor spread that all operations were put off in IBA due mechanical failures in the branches and cash dispensers on July 24, IBA spokesman Rauf Agayev stated.
Mr. Agayev said that he personally investigated the issue.
"IBA's over 500 cash dispensers, 35 branches and over 120 departments continue to normally function as usual. On the contrary, the software of the cash dispensers and provision of them with cash have been improved."
According to APA, he said that IBA, as the biggest bank of South Caucasus, will continue to improve its activities and services.