Caspian Motor Show-2006 has been postponed.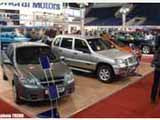 This automobile show had been planned to be held at Crescent Beach Hotel in Baku, July 21-23.
The show organizer Azerbaijani Automobile Dealers' Association told APA that the show was put off due to bad weather conditions in Baku and Absheron peninsula.
The show has been re-scheduled for July 27-30. The opening ceremony will take place at 19.00, July 27.