One of the main works to be done concerning the Shah Deniz project is to complete exploitation experiments of Shah Deniz part of the Sangachal terminal.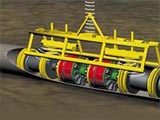 Besides, the unification of gas delivery establishments of Turkey's BOTASH company, Georgia's International Oil Corporation and Azerigas Joint-Stock Company will be over.
BP-Azerbaijan Company told the APA that the TPG500 platform and SDX-04 well will be ready in this period. In addition, the South Caucasus Pipeline will be prepared to receive the first gas. The construction of Underwater pipelines on the Shah Deniz project stage 1 has been completed.
The program of construction of Shah Deniz submarine pipelines envisages three pipelines in the length of 90 kilometers each-26-inch gas pipeline, 12-inch condensate pipeline and 4-inch mono-ethylene glycol pipeline. 'Israfil Huseynov' underwater pipe-laying barge was used for the construction of these pipelines. Initial exploitation works on the Shah Deniz underwater pipelines system were launched earlier this year. These pipelines will be prepared to receive Shah Deniz gas in late September.