"During the first half of the year BTC spent $735 million (including the costs of line-fill and financing) in capital expenditure. Our forecast is that BTC's total capital expenditures will amount to $832 million for this year," said BP Azerbaijan President David Woodward at a media briefing.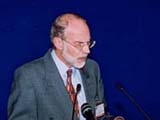 According to APA, he said that nine tanker cargoes of oil from the ACG field, have been lifted from Ceyhan amounting to a total of over 6 million barrels (approximately 0.8 million tonnes).
During this early phase the pipeline throughput will vary but has been over 400,000 barrels per day and this number will increase to one million barrels per day by 2008.
While the pipeline will continue initially to carry ACG oil, it is expected that in the future other volumes, including those from across the Caspian, will flow via BTC.
The 1076 km Turkish section of the BTC export system includes four pump stations, two metering stations and the Ceyhan marine export terminal, which itself consists of seven one million barrel capacity crude oil storage tanks, and a two and a half kilometer-long jetty to allow the simultaneous loading of two tankers of up to 300,000 deadweight tonnes.
Total of 10 million barrels (approximately 1.4 million tonnes) of oil, from the Azeri-Chirag-Gunashli (ACG) fields in the Azerbaijani sector of the Caspian Sea, was required to fill the pipeline.
BTC line-fill and commissioning activities were fully completed during the first half of this year resulting in the first tanker sail away from the new Ceyhan Marine Terminal on the Mediterranean coast June 4.
The official inauguration of the Turkish section of the BTC, the new Ceyhan marine export terminal and the full BTC pipeline export system was held at the Ceyhan terminal July 13.

The BTC Co. shareholders are: BP (30.1%); AzBTC (25.00%); Chevron (8.90%); Statoil (8.71%); TPAO (6.53%); ENI (5.00%); Total (5.00%), Itochu (3.40%); INPEX (2.50%), ConocoPhillips (2.50%) and Amerada Hess (2.36%).