The Shah Deniz gas and condensate development project has continued to progress according to schedule since the beginning of 2006.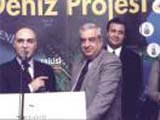 Stage 1 construction is currently 100% complete overall and onshore and offshore facilities are being tested and commissioned in preparation for meeting the target of delivering first gas to the market by September 30, 2006, said BP Azerbaijan President David Woodward at media briefing, APA reports.
During the first half of 2006 the project spent $568 million of the $865 million approved 2006.
Appraisal drilling activities in support of additional stages of the Shah Deniz development have continued during the first half of the year.
Following the successful completion of the Shah Deniz pre-drilling programme, which consists of a total of four production wells, in late January another appraisal well – SDX-04, was spudded by the Istiglal semi-submersible drilling rig in the south-western part of the field.
Work is still ongoing on the SDX-04 well. Having collected data from the main target horizons, we are now deepening the well to penetrate the pre-Fasila formation as planned.
Analysis of the data obtained from the well will be used in planning the Stage 2 development of the field. The results will add considerably to our understanding of the field, providing valuable data for assessing further options for development. Well results will be announced once drilling and data evaluation have been completed.
The three previous exploration and appraisal wells (SDX-01, SDX-02 and SDX-03) were designed to appraise and delineate the Stage 1 reserves in northern and eastern flank of the field. The SDX-04 well will appraise and delineate the resources in the southern flank of the field and will also test for gas presence in deeper horizons.
The parties to the Shah Deniz Production Sharing Agreement are: BP (operator – 25.5%), Statoil (25.5%), the State Oil Company of Azerbaijan Republic (Socar - 10%), LUKoil (10%), NICO (10%), Total (10%), and TPAO (9%).