Israeli and Azerbaijani energy officials have agreed to increase Israel's oil imports from the Baku-Tbilisi-Ceyhan pipeline.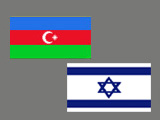 The deal also provides for more oil from the Caspian Sea to be transited through Israel's Tipline to the Red Sea. Israel, Azerbaijan and Asian oil-importing countries will all stand to benefit from this deal.
Israel is increasing its oil imports from Azerbaijan using the Baku-Tbilisi-Ceyhan (BTC) pipeline. The deal translates into a potential transit-fee windfall for Israel and easier, cheaper oil transportation for Azerbaijan -- which in turn will benefit Azerbaijan's Asian oil customers.
Israel depends almost entirely on imports for its oil and currently receives almost 20 percent of its supply from Azerbaijan. However, Israel also transits oil through the Tipline, which runs from Ashkelon on the Mediterranean coast to Eilat on the Gulf of Aqaba. The Tipline was built in 1968, and modified in 2003 to transport crude in either direction. It has been used recently to ship Russian oil to the Red Sea for transport on to South and East Asia.
The agreement between Israel and Azerbaijan improves the situation considerably for both Israel and Asian customers. Russia must ship its oil through the congested Bosporus and Dardanelles Straits, using smaller tankers -- which satisfy Israel's demand of about 278,000 barrels per day (bpd). For shipments to Asia, the Russian oil must be transferred to supertankers in Greece. However, Azerbaijan's BTC line avoids the clogged Turkish straits and terminates in Ceyhan, a port on the Mediterranean with a sizeable capacity. Also, the Tipline's two endpoints, Ashkelon and Eilat, can handle supertankers, and the Tipline's capacity is 1.2 million bpd, though it currently transits only 400,000 bpd. Japan (a partner in the BTC) and South Korea (which recently concluded energy agreements with Azerbaijan) will both benefit from Baku's deal with Israel and the faster transit for their crude supplies that comes with it.
There are also political implications of using less Russian crude. Russia uses its energy sector as an arm of its foreign policy and can manipulate the supply if it suits Moscow's purposes. Moreover, the Caspian crude that flows through the BTC is of considerably higher quality -- lower in sulfur and lighter in gravity -- than Russian oil.
At a time when Israel is embroiled in international conflict, there is the news that it stands to increase its income from transit fees as the demand rises for the better-quality Caspian oil set to flow to the Red Sea. BP, which operates the BTC consortium, is regarded as a reliable supplier. And Azerbaijan, always looking for customers, will benefit from a deal that bypasses the Russian and Gulf producers.
/www.stratfor.com/