A number of factors impede establishment of digital television broadcasting network.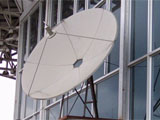 As APA reports, the obstacles to the establishment of this system are companies offering services of delivery and adjustment of set-top boxes as well as expensive set-top boxes.
For this purpose, Kur LLC which produces computers in Mingechevir will also make set-top boxes.
As a result, the price of set-top boxes will be $60-70. But the price will fall to $45-50 if the Government makes trade-off to the imports of these devices.
The ministry experts think that making these devices will cheapen the price and this factor can arouse interest of relevant companies in digital broadcasting network.
This experimental system was established in Baku in 2004. Transition to this system contributes to increase of TV Channels, and quality of the broadcasting.
Set-top box should be attached to the TV set in order to receive the digital broadcasting.
A project of $100 000 is being worked on making the set-top boxes in Azerbaijan.