Excelsior Hotel Baku and Azerbaijan Airlines concluded an agreement.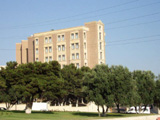 AtaHolding Group of Companies told APA that a person will be given 6 points by AZAL for every stay of him in Excelsior Hotel Baku. Excelsior Hotel Baku is the first hotel to have joined AZAL Miles Program.
AZAL Concern introduced Azal Miles Program a year ago. The program has about 6000 members and they get various preferences and privileges in flights. Gathering enough points, the customers get different preferences such as free carrying 10kg of baggage, increase from Y class to C business class and free air tickets.