The inauguration on Thursday of the Baku-Tbilisi-Ceyhan (BTC) pipeline – a new route to supply oil to the West – will help reduce tanker traffic through the Turkish Straits, but is far from resolving the often hazardous congestion of the two narrow waterways.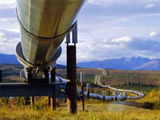 With one oil or gas tanker passing every 10 minutes on average, Turkey has long cried alarm over the environmental and safety threats the traffic poses to the Dardanelles and the Bosphorus, at either end of the Marmara Sea that links the Black Sea to the Mediterranean.
According to AFP, experts say the Bosphorus, the world's fourth busiest waterway, is under particular threat: it is difficult to navigate because of its sinuous geography and treacherous currents and flows through Istanbul, a megalopolis of 12mn people.
The BTC conduit, which runs from Azeri capital Baku via Georgia to the Turkish Mediterranean port of Ceyhan, is expected to curb to a certain extent the passage of dangerous cargo through the Straits.
"The BTC's inauguration means that traffic will decrease by 350 tankers per year," said Mithat Rende, a senior diplomat in charge of energy issues at the Turkish foreign ministry.
Officials have long warned that the increase in maritime traffic, coupled with the growing size of the tankers and of Istanbul's population, make for a disaster waiting to happen.
In the most recent incident in February, Rende recalled, only a last-minute intervention prevented a kerosene-laden tanker from crashing onto Dolmabahce, the famed waterside Ottoman palace, after a rudder failure sent the vessel drifting in the Bosphorus.
"Reducing the traffic of ships with hazardous cargo will reduce the risk of such environmental catastrophes," he said.
In 1979 and in 1994, tanker crashes in the Bosphorus, whose shores are dotted with posh waterside villas, restaurants and historic sites, claimed 41 and 28 lives respectively.
Some 150mn tonnes of crude, the bulk aboard Russian vessels, were transported through the Straits in 2005.
The two waterways form the only outlet to the oceans for Russia and the other Black Sea countries.
Turkey drew harsh protests from Moscow in the 1990s when it unilaterally introduced measures, justified with environmental arguments, to bring restrictions to Bosphorus traffic.
It was accused of violating the 1936 Montreux Convention, which regulates the use of the Straits and says they are international waters open to all vessels, except in time of war.
In 2003, Turkey introduced a new radar surveillance system at the straits, erecting more than 10 towers at the shores.
Eager to boost its ambitions of becoming an international energy hub and further reduce traffic through the Straits, Ankara is planning to build a new oil pipeline - from the Black Sea port of Samsun to Ceyhan - that will run in parallel to the BTC conduit, and is encouraging Russia to join the project.
/www.gulf-times.com/