Azerbaijani Communications and Information Technologies Minister Ali Abbasov to pay a working visit to the US on July 8-17 at invitation of USTDA.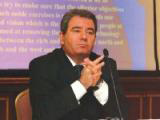 He will hold meetings at USTDA, SPR, the US Commercial Department, the US-Azerbaijan trade chamber, Azerbaijani embassy in the US and consulate in California, Federal Communications Association at organization of Microsoft, Department of State, the US National Association, World Bank, International Finance Corporation, Washington Service Commission and the US Telecommunications Institute and meet with congressman Kurt Weldon and will exchange views with the US Commission Department assistance chief Franklin Lavin on details of the understanding Memorandum to be signed in Baku, October 3-6 within XII International Telecommunications and Information technologies exhibition.
The Ministry told APA that the minister will address ICT business forum in Washington and I US-Azerbaijan business forum in San-Jose, California.
He also will meet with Microsoft vice-president Stev Balmer and other officers.
The events in the US will be attended by the ministry representatives, Presidents of Azerbaijani companies such as Sinam, Ultra, and AZEL, representatives from HP, Cisco, Microsoft and Information Technologies Institute of Azerbaijani National Academy of Science.