Some 20 Azerbaijani businessmen were present at the event.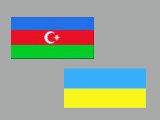 According to the Economic Development Ministry's press-service, the second meeting of the Azerbaijan-Ukraine working group for development of small and medium-sized enterprises (SMEs) took place at the Baku Business Center with participation of the delegation of Ukraine led by Oleg Miroshnichenko, director of the department of the State Committee for policy of regulation and entrepreneurship.
Opening the meeting, head of the Economic Development Ministry's administration Samir Veliyev told of the objective of this event, economic ties between Azerbaijan and Ukraine.
Touching on the prospects for Azerbaijan-Ukraine cooperation, S. Veliyev pointed to possibilities for further development of these ties, and called on the businessmen to use existing potential more effectively.
According to AzerTAg, the meeting focused on the business environment, investment opportunities, development of entrepreneurship, anti-monopoly policy in Azerbaijan and governmental support for business.
Members of the Ukrainian delegation spoke of the accomplishments achieved towards economic cooperation between the two countries, the work towards development of the SMEs.
The discussions at the meeting of the working group addressed the cooperation between businessmen engaged in the food production, live farming, wine making, engineering industry.
As a part of the visit, Ukrainian delegation visited the Baku Shampan Sharablary joint-stock company.