Azerbaijani President Ilham Aliyev signed a decree to make amendments to "Presidential decree September 2, 2002 on improvement of licensing some activities."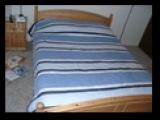 The decree was aimed at improvement of services in hotels and inns in Azerbaijan and adaptation of their activities to international standards.
President's press service told APA that one of the amendments to the presidential decree is that the activities of hotels and inns will be regulated by Ministry of Culture and Tourism.
The decree came into force on Friday.