Europe may be fed its gas supply from and through the Caspian region as Russian gas remains shaky and investment in the Caspian region grows.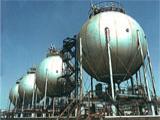 The Financial Times reports the European Commission envisions 10 to 15 percent of gas coming from the Caspian region by 2020, which is higher than a European Union and oil industry estimate.
High energy prices have made a pipeline route through the Caspian states more lucrative.
It is also considered a safe alternative in the face of a perceived risk of a gas shutoff from Russia's Gazprom.
BP is in the final stages of what could be the first such pipeline -- taking gas from a field off Azerbaijan's coast to Georgia and Turkey.
The European Union may soon include Caspian countries, which would further consolidate energy market regulations into its fold, making it easier to coordinate gas and oil delivery.
Work begins this year on a Turkey to Greece pipeline -- one of seven projects expected to create more Caspian to Europe gas cooperation.
/www.upi.com/