The head of the Micro Finance Bank of Azerbaijan (MFBA), a leading micro-finance provider and commercial bank of the country, will step down to take another position.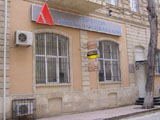 According to AssA-Irada, the MFBA General Manager, German Thomas Engelhardt will be succeeded by Briton Andrew Pospielovsky, Engelhardt told a news conference Thursday.
He said that after four years of successful activity in Azerbaijan, he will continue work at the LFS Financial Systems head office in Berlin. He is also expected to become a member of the MFBA observation council.
Pospielovsky said in his remarks that his appointment would promote MFBA's strategy, which is based on reliability, transparency and exemplary service. MFBA will also strive to meet the needs of businesspeople facing difficulty in using loans by increasing the number of its subsidiaries and the scope of its services, the new boss said.
Pospielovsky said the bank has provided over 26,000 loans worth over $71 million to small and medium entrepreneurs since it started operation in October 2002. MFBA's credit portfolio has grown 50% since late last year. 1,600 customers used the bank's loans in June alone. Other than crediting, the bank is providing other services, including savings accounts, money transfers, etc.
MFBA loans worth up to $125,000 are provided with interest rates ranging between 18% and 36%.
The bank has four branches in Baku, and one each in the country's second and third largest cities Ganja and Sumgayit, Shaki District, 400 kilometers northwest of Baku, and southern Lankaran district. The Lankaran affiliate, set up on June 29, has already disbursed more than 20 loans.
The MFBA shareholders are the European Bank for Reconstruction and Development (EBRD), International Finance Corporation (IFC), Black Sea Trade an Development Bank (BSTDB), the German state-owned development bank (KfW) and the German consulting firm LFS Financial Systems GmbH (LFS).
The bank's charter capital amounts to $6.85 million.
/AzerNEWS/