Azerdemiryolbank JS Commercial Bank has completed distribution of multipurpose credit allocated by the Black Sea Trade and Development Bank (BSTDB).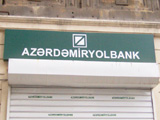 The bank told APA that the credit was distributed among $300 000, $500 000 and $1.2mn- credits to be directed to implementation of 3 investment projects.
They will be spent on expansion of regional business.
BSTDB and Azerdemiryolbank concluded the agreement on June 12.