Azerbaijani Improtex Motors Company intends to bring new BMW X3, BMW Z4, and 3-series model-BMW Coupe models to Azerbaijan shortly.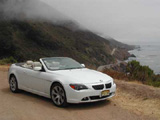 Improtex Motors manager Anar Khalilov told APA that only some models will be brought to Azerbaijan at first stage but the number of models can be increased depending on demand.
Improtex Motors has been the official exclusive dealer of BMW and Mini Cooper brands in Azerbaijan.