On July 13 the Georgian government will hold the next round of negotiations for receiving additional natural gas from the South Caucasus (also known as the Baku-Tbilisi-Erzerum) gas pipeline.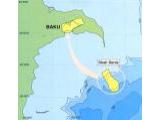 This is due to both increased gas consumption in Georgia, and the wish to not be reliant on Russian gas. The issue will be discussed at celebrations in Ceyhan to mark the coming on stream of the Baku-Tbilisi-Ceyhan oil pipeline, which the presidents of Georgia, Turkey and Azerbaijan will attend.
The Georgian government has been holding negotiations with the Shah-Deniz consortium and the Azeri government for a year already.
"The issue will be decided before September. By that time Georgia will be ready to receive natural gas from the pipeline." The newspaper Khvalindeli Dghe quotes Minister of Energy Nika Gilauri as saying.
As a result of agreements already concluded, Georgia will receive 5 percent of the transited gas free, and will receive another 5 percent at a discount price of USD 50 for one thousand cubic metres (m?) of natural gas. In 2007-2008 Georgia will receive 200-250 million m? of natural gas from the pipeline, and from 2011 the country will get 800 million m?, reports the newspaper Khvalindeli Dghe.
Georgia currently uses 1.2 billion m? of natural gas annually, but consumption is expected to increase to 2-3 billion m?.
Gilauri says Georgia will try to persuade the consortium to increase Georgia's share to 1.5 billion m? annually in 2007-2012.
Local analysts argue that if Georgia manages to increase the natural gas supply from Shah-Deniz then Gazprom (and hence the Kremlin) will no longer be able to blackmail Georgia.
/www.messenger.com.ge/