Yesterday Ministry of Education Microsoft Company signed mutual memorandum "Cooperation on development field of modern information technologies system".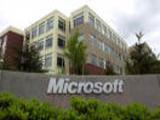 Minister of Education Misir Mardanov making a speech in the signing ceremony said that the objective of the memorandum is to expand modern information technologies in the education system of our country in 2006-07 years, as well as in for development of education initiative "Partnership in the education" the sides cooperation frame and identify the terms.
The Minister said that Microsoft Company helps to teachers and pupils through "Partnership in the education" program.
The Company will also help The Ministry of Education in the field of preparation national strategy on use of information technologies in education, Misir Maradnov said the memorandum will be in the power till December 2007.
Microsoft representation leader in Azerbaijan, Vladimir Chaykovski said that within the memorandum frame, Microsoft Information Technologies Academy, Program provision licensing program in special terms, Support of Innovation methods in the education and etc. projects will be implemented.
Chaykovski added that analogical memorandums have been signed with Russia, Ukraine and Kazakhstan main education organizations, APA reports.