Islamic Development Bank (IDB) 31st annual meeting will be organized in Kuwait May, 30-31. Azerbaijani delegation will be represented at the Head of Heydar Babayev, Economic Development Minister.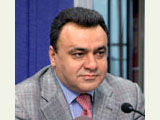 APA informs that Bank's Board of Directors' sessions and seminars are to be held at the meeting where IDB member countries' state authorities, business community people and international financial institutions will be represented.
It is also expected that IDB projects run and to be run in Azerbaijan and mutual cooperation prospects will be discussed.
Azerbaijan joined IDB in 1992. Currently roads rehabilitation projects, electricity and water supply adjustment projects and refugees and IDPs level of life improvement projects are implemented jointly with IDB and Azerbaijani government under a three-year activity programme. The Bank has granted $140 mn to projects in Azerbaijan.
Moreover, Islamic Corporation for the Development of the Private Sector, IDB Group, has granted credit lines to Azerbaijani commercial banks. The Corporation will probably take direct part in the private sector projects in the future.