LLC Barmek-Azerbaijan Energy Network paid taxes of $2,7 million in 2002, $8,8 million in 2003, $8,8 million in 2004 and $16,2 million in 2005.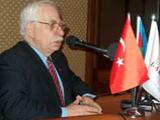 As APA reports, $18 million is paid in 5 months of this year.
"I have paid $54,6 million taxes since my arrival in Azerbaijan. Is it believable that the company paying so many taxes evades them?"
Arabul said that he had many times been thanked for paying most taxes.
"I am the second biggest taxpayer in Azerbaijan at the moment. It is a wrong conversation that Barmek evades a tax for which its accounts are blocked. How it is possible if you pay a tax."