"Natural gas resources of Azerbaijan provoke great interest in Europe," Fauzzi Bensarsa, European Commission representative for Energy Security, has stated in his interview, being on Brussels mission.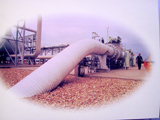 As APA reports, Mr. Bensarsa has said that Europe has a special attention to Shahdeniz gas resources in Azerbaijan and The European Union has its own plans regarding this gas deposit.
"We are actively working with Azerbaijani representatives and we carry strong hopes to the country's natural resources. We already obtain the entire programme of Trans Caspian Project."
European Commission member has also pointed that extending cooperation in that field depends on guaranteed nuclear security. Hence the situation in Armenia is particularly pursued.