Oil prices fell Wednesday after weekly government data showed rising supplies of gasoline, though the declines appeared to be kept in check by falling crude-oil inventories.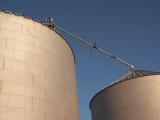 Light, sweet crude for July delivery fell 36 cents to $71.40 a barrel on the New York Mercantile Exchange, where June gasoline futures declined by more than 2 cents to $2.0875 per gallon, the Associated Press news agency reports.
In London, Brent crude for July delivery lost 58 cents to $70.42 a barrel on the ICE Futures exchange.
The weekly petroleum snapshot from the Energy Department showed crude oil inventories declined by 3 million barrels last week to 343.9 million barrels, or 3.6 percent above last year. Oil imports were down by more than 800,000 barrels per day.
Gasoline inventories grew by 2.1 million barrels to 208.5 million barrels, or almost 3 percent below last year, while supplies of distillate, which include diesel and heating oil, increased by 2.5 million barrels to 117.1 million barrels, or 8 percent more than a year ago.
Over the past four weeks, gasoline demand averaged 9.24 million barrels per day, just a hair above year-ago levels, suggesting higher pump prices may be having an impact on consumption.
Oil prices had risen Tuesday as scientists' predictions about the Atlantic hurricane season and a fire at a Louisiana refinery renewed concerns about potential supply disruptions in the Gulf of Mexico. Hurricane experts said the upcoming season should be an active one, but is unlikely to be as strong as in 2005.
Market participants said the prospect of an active hurricane season is just one of many factors encouraging funds to pour cash into commodities, which are coming off a big dive in an ongoing roller coaster of bargain-hunting and profit-taking.
Hurricane premium is back as the market is fearful that even one damaging storm in the Atlantic could deliver a knockout blow to energy infrastructure that is still recovering from last year's hurricane season, Phil Flynn, an analyst at Alaron Trading Corp., said in a research note.
Other factors propping up prices include the West's diplomatic impasse with Iran over its nuclear ambitions, violence in Nigeria that has curbed production there and the world's sliver of a supply cushion.
In other Nymex, trading natural gas futures fell almost 16.8 cents to $6.09 per 1,000 cubic feet.