XII Azerbaijan International Food Industry Exhibition has today started in Baku and will be carried out till May, 26. The organizer is Iteca Caspian, the exclusive partner of British Exhibition Company ITE Group in the Caucasus.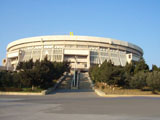 According to APA, Agriculture Minister Ismat Abbasov, who participated in the opening ceremony, has stated that Azerbaijan was represented with a few production and refinement companies in former exhibitions in previous years. It gives pleasure to say that almost half of the represented companies are local now. Mr. Abbasov has stated that this tendency will go on.
Mehman Ahmadov, Trade and Industry House Vice-President, put his stress on importance of agriculture sector so that it is one of the prior sectors in Azerbaijan. Half of work capable population in Azerbaijan work in this sector.
Farid Mammadov, Iteca Caspian President, made a detailed speech about the exhibition. On his words, there were 61 companies from 13 countries. The exposition spheres have 30% risen this year in comparison to last year's. Exhibition shows alcoholic and soft drinks, frozen and semi-manufactured goods, agricultural and melon-growing facilities, restaurant and bar equipments, refrigerator and trade inventories, and other products and services.