If the payment percent for the gas decreases, the volume of the gas delivery to Ganja might be reduced or cut off.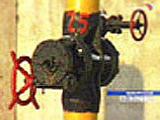 As APA reports, collection percent for gas sold to Ganja population consisted of 15 percent in April.
Payment percent was higher compared to previous months, but the collection percent is related to hot weather, citizens using from gas not so much. 30 percent subscribers are there over Ganja that 30 percent of them pay for the gas they use, within first 4 months of this year population group debt on Ganja city to Azerigaz Closed Joint Stock Company consist of 5 mln AZN.
Ganja city gas exploitation office has informed that 18 thousand gas meters have been installed at present. 30 thousand more gas meters are planned to be installed by the year end, 2007. However city gas exploitation office said it will cut off gas delivery if the population does not pay for the gas.
Ganja city executive power gave instruction to office and enterprises operating in the city to check its employees' gas payment for the first month of the year, if no payment is found, the subscriber will be involved to pay by the enterprise he works.