"Barmek owes nothing to Azerenergy and Taxes Ministry. We have paid $18 million tax commitments during 5 months this year and $5 million only during this month off," said Huseyn Arabul, LLC Barmek Azerbaijan Energy Network President.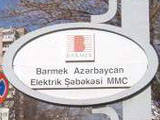 While talking about the latest scandal around his company, Mr. Arabul has told that the company employees were using a simple Dictaphone, not secret recording device at their meeting with Economic Development Ministry (EDM) officers.
"This was done as a proof of record and there is nothing in secret".
As to statements of the Commission established at EDM about lack of Barmek arguments, Arabul has reacted saying "it is nonsense".
Mr. Arabul has stated that he and his company have not recently confronted overpressure.
"I am doing my own business. We have got new projects. No one interferes in our job. One of our employees is already been released and I hope the rest will be treated samely because they are innocent," he has added.
Responding to the question about the statement of Turan Morali, Turkish Ambassador to Azerbaijan, that they do not intervene in problems around Barmek, Mr. Arabul has said that Turkish government does not interfere in private businesses affairs.

Huseyn Arabul has declared that those people who spread false information about Barmek will probably be sued against at court soon, APA reports.