Azerbaijan's Transport Ministry drafts national technical standards in transport safety.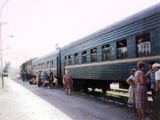 Kazim Sharifov, Chief of Safety and Emergency Department in the Ministry, has reported APA that luggage of passengers traveling abroad by rail is strictly checked. Hand luggage is checked both by law enforcement bodies' servants and transport workers. Saying that check-up system is strengthened on internal lines, Mr. Sharifov has connected it with country's situation.
Ministry officer has stated that transportation infrastructure has been destroyed by Armenians in occupied areas of Azerbaijan. They have caused some amount of billion dollars to road and transport infrastructure in Nagorno Karabakh and surroundings. So rails and sleepers are dismantled, roads are destroyed.
"We have raised this question before OSCE and other worldwide organizations. Regretfully, those institutions listen only to our objections, instead of real job".