Crude oil prices rose Monday as the front-month contract expired, forcing traders who had anticipated lower prices at this point to become buyers to cover their bets.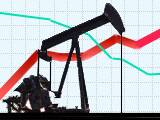 According to the Associated Press, BNP Paribas Commodity Futures broker Tom Bentz noted that the spread between the June and July crude-oil futures contract narrowed considerably amid market concerns about crude supplies, though he said short-covering was probably the main factor influencing prices.
"On expiration day, pretty much anything can happen," Bentz said.
Light, sweet crude for June delivery on the New York Mercantile Exchange climbed 70 cents to settle at expiry at $69.23 a barrel. The July contract rose 67 cents to settle at $69.96 a barrel.
Gasoline futures rose 1.9 cents to $2.0574 a gallon.
July Brent crude on London's ICE futures exchange increased by 67 cents to $69.35 a barrel.
Analysts said concerns persist about how the West's standoff with Iran over the Islamic republic's nuclear ambitions will affect that nation's oil exports, as well as supply disruptions in Nigeria and the Gulf of Mexico during hurricane season.
"At least in some quarters of the market there's a feeling that the downward price correction over the last week to below $70 provides a buying opportunity," said Victor Shum, an energy analyst with Purvin & Gertz in Singapore.
Vienna's PVM Oil Associates noted "soothing news" from Nigeria, with the country's biggest operator, Royal Dutch Shell PLC, hoping to recoup some of its lost production amounting to more than 450,000 barrels a day "rather earlier than later." Still, it said, a threatened strike at Exxon Mobil Corp. could cut into Nigerian output even as Shell reduces its losses.
Elsewhere, Shell Exploration & Production Co. said Monday that partial oil and natural gas production has been resumed from its hurricane-damaged Mars production platform in the Gulf of Mexico.
Although the company, a unit of Britain's Royal Dutch Shell PLC, did not say what initial production rates were, it said pre-Katrina rates of 140,000 barrels of oil a day and 150 million cubic feet of gas daily should be restored by the end of June.
Iran said Sunday it was waiting to see what offer the Europeans present to resolve the confrontation - taking a somewhat more open tone than staunch rejections voiced by officials in recent weeks, which added to the downward pressure on oil prices.
The five U.N. Security Council nations plus Germany are working on a draft proposal that would offer Iran an end to U.N. Security Council pressure if it agrees to suspend uranium enrichment. But if Iran refuses, it could face sanctions backed by the threat of force.
The Security Council has demanded Iran stop enrichment, a crucial process that can produce either fuel for a reactor or material for a nuclear warhead. The United States accuses Iran of seeking to produce weapons, though Iran insists it intends only to generate electricity.
/www.phillyburbs.com/