The eighth annual meeting of the Black Sea Trade and Development Bank (BSTDB) board of directors will be held in Baku on June 11. This will be followed by the Black Sea Business Day on the following day.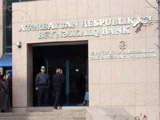 "Holding such an event in Baku proves that Azerbaijan is a leading country in the region," said the BSTDB director on Azerbaijan, Economic Development Minister Heydar Babayev.
According to AssA-Irada, the bank's annual report will be approved at the board meeting, Babayev told a news conference dedicated to the preparations being made for the upcoming activities.
The minister went on to say that the discussions as part of the Business Day will focus on the role of the finance sector in economic development, investments in agricultural business and the food industry.
The BSTDB Secretary General Charalampos Tsarouchas said Azerbaijan has fully paid off its share in the bank's capital and pledged that the bank will continue to deliver on its obligations. He stressed that holding the mentioned meeting in the Azeri capital serves to boosting BSTDB's activity in the country.
Azerbaijan holds a 2% stake in the bank's charter fund. The overall capital of the financial institution, established in 1999, amounts to $1.325 billion.
BSTDB and local banks are expected to sign three credit agreements during the Black Sea Business Day. The funds will be channeled to the development of the small and medium enterprise, Secretary General Tsarouchas told reporters on Thursday. "The number of such agreements to be concluded may be greater, but this depends on the documents to be prepared and submitted by local banks."
The bank official said BSTDB places an emphasis on three fields of the Azerbaijani economy.
"First, it's the finance sector. We will be working to meet the demands of the financial market. Second, agriculture and food processing. Yet another field the bank is focusing on is the implementation of infrastructure projects."
/AzerNEWS.net/