Next round of negotiations on Azerbaijani membership to The World Trade Organization (WTO) will be organized in late this year, Mahmud Mammadguliyev, Deputy Foreign Minister, told journalists.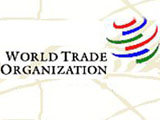 On his words, there are several main aspects on which negotiations are going on. They are issues such as current tariffs, services, assistance to domestic agriculture, export subsidization and current trade control. Mammadguliyev considers it impossible to sign a memorandum between Azerbaijan and WTO this year although talks on each aspect continue, APA informs.
"Negotiations have just been started up and there is enough difference of opinions. Action should be taken to get satisfaction for both sides. Some changes should be made to home legislation and questions on trade control in Azerbaijan must be answered to," he said.