Experts in The Finance Ministry vote against creating common tax on property through combining taxes on property and land considering this idea a useless offer.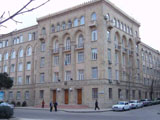 The Ministry officials say that it's unadvisable to implement such idea into practice explaining it with insufficient development of land market appreciation mechanism in Azerbaijan.
Anyway The Taxes Ministry currently works on implementation of common tax on property with combination of taxes on property and land, APA reports.