Azerbaijan's President Ilham Aliyev issued a decree on ratification of the Regulations of Industry and Energy Ministry.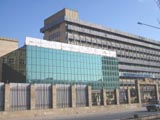 The President's press service informed APA that according to the Regulations, the Industry and Energy Ministry is a central executive body, which is dealing with state policy and regulation in industry and fuel-energy complex.
This complex comprises mine work, refinery (oil and gas refinery, its transport and distribution, chemical, engineering industry, light and other spheres of industry), electricity and thermoelectricity production, supply as well as its transmission and juridic persons and individual entrepreneurs involved in this work.
The Ministry's structure was confirmed under the presidential decree too. The structure is composed of the office, State Energycontrol and State Gas Controlling offices. The Ministry can recruit 180 employees.