Rafik Asadov, the Chairman of Baku Grain Terminal (Baku, Azerbaijan) is the participant of "Grain Forum" which will be held on the 18th of May in Kiev.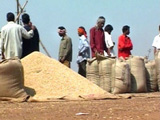 According to him, the main goal of his participation is the possibility to take a closer look at rich experience of traditional grain producers and processors, at main present-day problems of the industry, and at the whole situation on the grain market.
Also, grain terminal leader is going to get into personal contact with representatives of Ukrainian and other companies who can become a partner of the terminal.
Building of the Baku Grain Terminal has been started on the 6th of May. Its projected capacity of storage will total 500.000 tonnes, transshipment - 800.000-1 mln tonnes of grain per year.
Building is to be finished in the end of 2006 (December, 31).
In the current year grain harvest is forecasted 2-2.2 mln tonnes in Azerbaijan. Country import will total 800.000 - 1 mln tonnes. Azerbaijan traditionally imports grain from Kazakhstan.
/www.agrimarket.info/