Baku-Tbilisi-Akhalkalaki-Kars railway construction might start in 2006.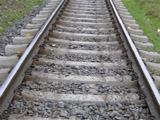 The President of Azerbaijan Ilham Aliyev said this issue was on the agenda on his current meeting with Turkish president.
President Aliyev highlighted Azerbaijan's commitment for the financial liabilities of the project. According to him, this route will connect Europe and Asia and it will contribute into the national interests of Azerbaijan. Turkey on its side took the commitment to assist Georgia in finding the investor.
Baku-Tbilisi-Akhalkalaki-Kars railway project envisages building of 98 km railway line between Akhalkalaki and Karsi. 27 km of this segment are on the Georgian territory and 72 km in the Turkish side. The project also envisages rehabilitation of the old obsolete Tbilisi-Akhalkalaki segment of the existing railway.
The realization of the project might need USD 350-450 million. The project is envisaged to be carried out in two stages. At the initial stage only one track will be built and trains will start running on it and only later second track will be constructed.
Some of Georgian experts demand from the government to carry out better assessment of the pluses and minuses of the project. On one hand, the project could be beneficial as it is yet another access into the Turkish direction. On the other hand, it could become a kind of competitor to the cargo transiting through Poti and Batumi ports. This will be discouraging for turnover into these ports.
But the most actively opposing to this project is Armenia, which puts forward its vision of activating already existing Kars-Giumri (Armenia) railway. Armenian-origin Georgian population of Akhalkalaki region is also against this railway because in fact they repeat the ideas implemented from Yerevan.
Economically, however, it should be mentioned that this project very much contribute to the welfare of Akhalkalaki region in particular and it will create many additional jobs not only during the construction, but later as well. It will revive infrastructure, business, etc.
/www.messenger.com.ge/