Iran's Ambassador to Kazakhstan Ramin Mehmandoost stated Sunday that the Islamic Republic of Iran is opposed to laying oil and gas pipelines on Caspian seabed.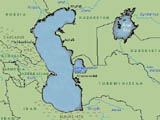 Speaking to IRNA, he said Iran has repeatedly declared its position on the issue.
There are two reasons for Iran's opposition to the plan namely: there is 'no legal regime has been defined for Caspian Sea' and the existing problems pertaining to protecting the sea's environment, he said.
To implement the plan, the legal regime of the Caspian Sea should be drawn up, all five countries sharing common coastline around the Sea should agree with the plan and ensure that the plan does not threaten the environment and is in conformity with international standards.
Turning to his recent talks with Kazakh Minister of Energy and Mineral Resources Baktykozha Izmukhambetov, he said that at the meeting the Kazakh minister called for Iran's consent and cooperation with the construction of pipelines to transfer Kazakh oil and gas to Europe via Caspian Sea waters and Iran declared of its concerns accordingly.
Given the newly built facilities in Neka port in north of Iran, he said the two sides also discussed exchange of Kazakh oil via Iran, he said.
Kazakh Prime Minister Danial Akhmetov at the end of ECO meeting in the Republic of Azerbaijan, said the country is to study construction of pipeline to transfer oil and gas via Caspian Sea.
The project will seek to transfer Kazakh oil and gas to Europe via Caspian Sea, Azerbaijan and Turkey, he said.