Azersu Joint Stock Company (JSC) will finish installation of water meters till 2007 in Baku and till 2008 in the republic. Nizameddin Rzayev, Head of Azersu JSC, told the media about.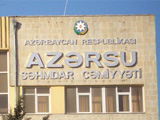 According to his words, Azersu has more than 880 thousand subscribers in whole country 860 thousand of which is population. There are 430 thousand subscribers in Baku, APA informs.
"Installation process has a delay. 36107 meters only were installed last year 34737 of which were done in Baku. 1500 of population who were installed meter at home are low-income families. Totally, more than 54 thousand meters have been installed in Baku so far. The process will be sponsored by budget this year again. Additional financial resources are sought now."
Mr. Rzayev told that private houses do not get interested in installing meters for their houses. Water flow quantity is big in those houses. So private houses use water and for irrigation purposes.
"We break their water, but house owners connect the lines again and evade installing meters," Rzayev told.