Baku Stock Exchange (BSE) will host the following auction on Ministry of Finance state short-term loan (SSL) investments on May 15.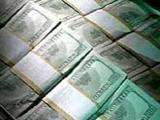 BSE told APA that based on emission parameters, state registration number is 10301013S, total volume is AZN4 million and nominal value per loan is AZN200. Loan turnover is 182 days, reimbursement deadline is November 13, 2006.
Receiving non-competitive orders are allowed in auction not surpassing 20% of state short-term loan emission.
Auction will be held according to contract between BSE and The Ministry of Finance signed on August 29, 2005.